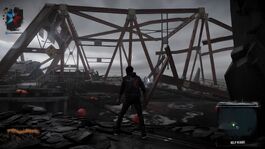 The 520 Bridge is a concrete and steel bridge that Brooke Augustine destroyed during the start of Infamous: Second Son. It is located near Salmon Bay.
Description
It is a long bridge lined with many wrecked cars. Some parts of it have fallen into the water; some are unstable and will collapse if walked on.
Events
This was where Delsin Rowe first acquired the Car Boost and Smoke Thrusters ability. After leaving Salmon Bay, Delsin was to make his way across the wrecked bridge to find his way into Seattle. He had to use his newly acquired abilities to make it safely across. Once he made it to the end, he met up with his brother Reggie Rowe. Here, Reggie almost fell to his death when he nearly found himself dangling from a ledge, but Delsin managed to save him.
Trivia
Sources
Community content is available under
CC-BY-SA
unless otherwise noted.