This page is dead. Help me save what I can.

I thought I'd finished it.
This page needs to be
expanded
in order to include more relevant information.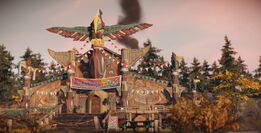 The Akomish are a fictional Native American tribe from the small town of Salmon Bay, Washington, located a few miles outside of Seattle. Delsin, Reggie, and Betty are members of the Akomish tribe.
History
During the events of Second Son, a military escort crashes near the Akomish longhouse, and two of the Bio-terrorists aboard escape to Seattle. The third Bio-terrorist, Hank Daughtry, emerges from the crash and attacks two members of the Akomish tribe, Reggie and Delsin Rowe. The Department of Unified Protection soon makes its way to Salmon Bay and tracks the Bio-terrorist to the nearby Fish Cannery. After the Bio-terrorist is captured, Brooke Augustine, the director of the DUP, interrogates the Akomish Tribe in order to find out if Hank had told any government secrets to any of the Akomish. After the interrogation is finished, the DUP leave and head to Seattle to capture the other two Bio-terrorists.
This act leaves the Akomish Tribe in a fatal condition as the Concrete shards stuck in their structure can only be removed by Augustine's Power. Delsin, who soon realizes that he has the power to copy the powers of different Bio-terrorists, makes his way to Seattle with Reggie in order to copy Augustine's power and save the Akomish Tribe.
During Delsin and Reggie's stay in Seattle, Betty calls them numerous times in order to check up on them.
Saving the Akomish
After the defeat of the DUP at the hands of Delsin Rowe, Abigail Walker and Eugene Sims, Delsin returns to Salmon Bay with his new Concrete power courtesy of Augustine, and saves the Akomish Tribe.
In an alternate timeline where Delsin Rowe chose to become evil, his return to the Akomish longhouse is not met with open hands and he is condemned and excommunicated by Betty, who refuses his help after seeing what he has done on the news, telling him that he's "Akomish, no longer". Angered by this, Delsin performs a Orbital Drop on the longhouse, presumably killing the wounded Akomish Tribe, including Betty.