I thought I'd finished it.
This page needs to be
expanded
in order to include more relevant information.
Cole's Legacy is an expansion pack for Infamous: Second Son which was initially available only by pre-ordering the game (For US Customers), or purchasing the Special Edition (All other Countries).
The pack contains missions uncovering the events which happened during the seven year time span between the activation of the RFI in Infamous 2 and the storyline of Infamous: Second Son. This is the only time when Zeke Dunbar makes a cameo appearance and Dr. Sebastian Wolfe's brother Raymond Wolfe appears in a cameo as well.
After completion of Cole's Legacy, the Cole's original bike courier jacket is awarded for in-game use. The design of the jacket is slightly different compared to the first two games of the series. In this game, the design of the jacket shows some tears in the front and the back of the jacket and rather than the yellow pads being sewed up on top of the black jacket, the yellow and the black are sewn together imitating as a jacket pad-less. There are also some more minor changes such as the zipper on the jacket is also revealed due to Delsin wearing it without zipping it up and covering it, and also small changes to the collar area of the jacket.
Since June 25, 2014, European Infamous: Second Son players can now access the Cole's Legacy' DLC from the PlayStation Store, priced £3.99/€4.99.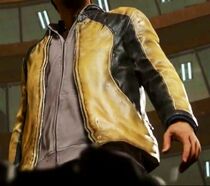 Trivia
This marks the only appearance of Zeke in Second Son. Oddly Zeke and his voice actor Caleb Moody are mentioned along with the rest of the cast during the credits.
During Wolfe's report, Cole's name is incorrectly written in subtitles (Macgrath instead of MacGrath).