I thought I'd finished it.
This page needs to be
expanded
in order to include more relevant information.

This page is dead. Help me save what I can.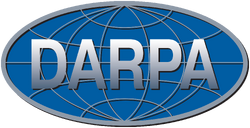 DARPA, (Defense Advanced Research Projects Agency) is a U.S agency responsible for developing new technology for the Military.
Description
Now DARPA is the motherload of Black Ops crap. It's the secret pentagon group that doesn't answer to anybody! If she's in with those clowns, you better watch out, son.
― Zeke Dunbar describes DARPA
After Cole MacGrath first meets Moya Jones, Zeke Dunbar looks into her background and discovers that she is a DARPA agent. Zeke describes the organization as "The mother load of black-ops crap" and advises his friend to "Stay away". His prediction later comes to fruition when Moya's deception is revealed.
Cole breaks off his deal with her, but as the Military prepare to storm Empire City, Cole receives a call from Moya in which she states "I warned you that if I lost control, they'd escalate things. You shouldn't have reneged on our deal." She also threatens to "Bury" Cole so deep that he won't "know which way is up". Also after Cole first meets Moya, she copies his phone's frequency to make sure she knows everything.
Trivia
Sources