This page is dead. Help me save what I can.

The Eagle Point Penitentiary (also known as Empire City Penitentiary), was a large prison located in Empire City. It is run by the 43rd Precinct of the Empire City Police Department. They are only found in the Warren and are always on patrol near the outside walls of the facility.
Description
Edit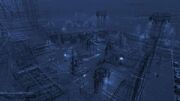 As the largest and only prison in Empire City, Eagle Point penitentiary took over a massive portion of the
Warren District
. The prison spanned over several floors and included a wing that had been built over one of the areas main roads. The main buildings generators were found on its roof, and there was a large exercise yard and secure visitors entrance with parking next to the complexes main gate. The whole building had suffered severe damage due to the explosion cause by the
Ray Sphere
. During the mission
Alden in Chains
, it became even more damaged, due to the
Dust Men
attack.

Eagle Point Penitentiary was the third largest building in Empire City, next to the Staton Building and Alden's Tower.
In missions
Edit
Cole MacGrath visited the penitentiary on many occasions following the Empire City Blast, as one of the largest areas in the city the Empire City Police Department had held, the jail was a focal point for their attempts to regain the city. Warden Harms contacted Cole on a number of occasions, requesting his assistance in transporting Dust Men prisoners to the penitentiary.
Eagle Point penitentiary was also home to Alden Tate for a short time, after Cole and the police worked together to bring the Dust Men's leader to justice. His incarceration was short however, as the Dust Men soon attacked the prison, intent on liberating their leader. Cole and the police tried to keep Alden secure and him men at bay but due to a mistake on Zeke Dunbar's part, the dangerous conduit Alden, was able to escape, killing many police officers in the process.
After the Dust Men attack there was significantly more damage to the penitentiary, with massive holes in the yards wall, and the destruction of the caged walkway.
If Cole is pursuing an evil path, Sasha will contact him, requesting he break some of her Reapers out of the penitentiary in the side mission New Friends.
End of non-canon information.
During the mission Alden in Chains, Zeke claimed that he wired up the generator to the top of the metal cage. However, if Cole visits the cage before the mission he will find that it is already wired up.

This is probably an oversight by the developers.

There are eleven Blast Shards and two Dead drop to be found in this location.
Community content is available under
CC-BY-SA
unless otherwise noted.