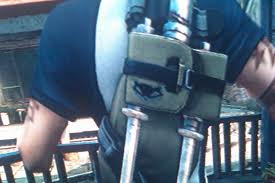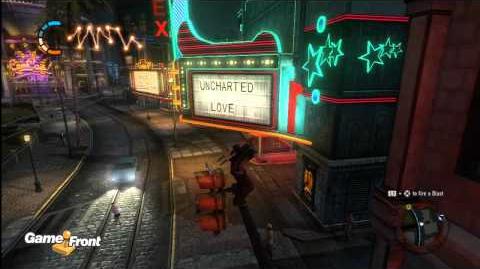 Listed here are the numerous Easter Eggs found throughout the Infamous series.
Movie Signs
On the signs in inFamous 2, the movies listed are all parodies of games. The names of which are:
Call of Booty (Call of Duty series)
Solid Serpent (Metal Gear Solid)
Uncharted Love (Uncharted series)
Hey Low Reach (Halo: REACH)
Assassin's Need (Love Too!) (Assassin's Creed)
No Need for Speed (Need for Speed)
Epic Hickey (Epic Mickey), Little Big Unit (Little Big Planet)
Latch It and Skank (Ratchet & Clank)
Sly! (Sly Cooper series)
The signs can be seen again in infamous: festival of blood with new movies being shown at the theaters in Smut Triangle. The following movies shown on Pyre night are:
Street Sucker III (Street Fighter III) - US Version
Scar Craft 2 (StarCraft II)
Assassin's Bleed (Assassin' Creed)
L.A. Gore (L.A. Noire)
Call of Bloody: Black Bleed (Call of Duty: Black Ops) - US version
Red Dead Vampires (Red Dead Redemption)
Die Cooper 4: Vampire Thieves (Sly Cooper: Thieves in Time)
Unstaked: Vampires Deception (Uncharted 3: Drake Deception)
Modern Gorefare (Call of Duty: Modern Warfare)
Mass Infect 3 (Mass Effect 3)
Dead Face (Dead Space)
Other Games
Sly Cooper
In both inFamous and inFamous 2, Cole's backpack features the Sly calling card from the Sly Cooper series. It also appears in all of Cole's Crossovers.
Assassin's Creed
Other
While Cole stretches out his powers, Zeke Dunbar can be seen reading Atomic Lead, a comic book published by Sucker Punch.
Community content is available under
CC-BY-SA
unless otherwise noted.