"Evolution" is the 6th story mission in Infamous 2.
Synopsis
Introduction
Cole asks Kuo how the search for Dr. Wolfe is going. She replies that she's still working on it and that Cole should "flex" his powers a bit in the meantime. After Cole makes his way to the coordinates Kuo gives him, she explains to him Wolfe's theory that Cole might be able to unlock some of his dormant powers by absorbing Blast Cores. The key to unlocking them is for Cole to mix up his moves a bit during combat.
Different Bolt, Same Great Taste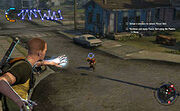 Kuo then suggests that Cole tests Wolfe's theory by taking on a group of Militia. After Cole defeats six of them using his standard bolt, he unlocks Pincer Bolt. Once Cole tests out his new move, he discovers he can easily switch back to Alpha Bolt when he wants. Kuo then contacts Cole and tells him that it is logical for his other powers to be able to grow in similar ways. Cole tells Kuo that he will monkey around a bit.
Trivia
The part of the mission entitled "Different Bolt, Same Great Taste" is a play off of the Mountain Dew promo entitled "Different Look, Same Great Taste" after they changed the look of the cans. It could also be a play off the additional Mountain Dew flavors that was entitled "Different Dew, Same Great Taste."
Completing this mission allows the player to access the customization menu, allowing them to change Cole's powers.
Gallery
Video
Community content is available under
CC-BY-SA
unless otherwise noted.