Golems are part of the Dust Men in Infamous.
Appearance
Golems are large suits of scrap and garbage made and operated by telekinetic Dust Men Conduits. Golems have a similar appearance to the Dust Men's Scrap Crabs, and the amount of damage they have taken can be determined by the color they are at the time. For instance, a wholly undamaged Golem glows yellow inside, turns orange when damaged, and red when critically damaged.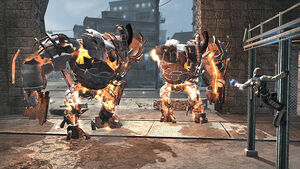 Alden formed a large Golem-like armor around himself in his final battle with Cole. This Golem was much larger than the normal ones, had a crude "face", and possessed all the same abilities as the normal Golems, but on a much larger scale. For example, the large balls of garbage it threw were made of car parts rather than random garbage - however, unlike a typical Golem, these balls were not set alight. Instead, Alden could simply shoot separate balls of fire. Alden's Golem also glowed the same way as other Golems do.
Powers and abilities
Attacks
The Golems have three ways of attacking Cole or other enemies:
Combat
In between blows to the Golem, it usually falls on its knees and the trash 'armor' around its chest opens, revealing the Dust Man piloting the Golem. When you attack the pilot, your hits do more damage. The arms of Golems can be blown off by attacking them.
Trivia
Sources