Welcome to the Infamous Wiki!
The wiki about the PlayStation-exclusive, open-world super-hero video-game series that anyone can edit! This wiki is monitored by staff members
Shrev64
,
Jim Logan
, and
RB1196
, along with the rest of the
Infamous wiki staff
.
Note: This wiki covers information about the Infamous series, and as such may contain spoilers.
Featured article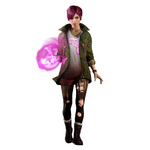 Abigail Walker, more commonly referred to as Fetch, is a Conduit (or Bioterrorist) who can control neon. She is the tritagonist in Infamous: Second Son, and the main protagonist of Infamous: First Light. She is the third playable protagonist in the Infamous series, following Cole MacGrath and Delsin Rowe.