Lightning Storm (not to be confused with Ionic Storm) is the final and most powerful ability Cole MacGrath gains in inFamous. The attack was later replaced by Ionic Storm in inFamous 2.
Overview
Characteristics
Cole calls down from the sky a storm of lightning that does massive damage to the surroundings, vehicles, and anyone in its path and continuously drains Cole's battery cores. He can use Lightning Storm until his battery cores are completely depleted, until he chooses to stop the attack or if he moves the attack over a body of water, which will automatically disable it.
The attributes of Lightning Storm are the opposite of
Precision
, a power that is all about accuracy; Lightning Storm is a trail of carnage carved by brute force. It is very effective when encountering a large group of enemies and/or enemy
vehicles
. However, wield this ability with caution; even though a band of enemies can be quickly destroyed by Lightning Storm, the exploding
cars
and flying debris can easily injure Cole and passing bystanders, leading to a loss of
Good Karma
.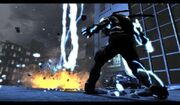 The ability is used by holding down the down button on the D-pad and "steering" the lightning with the tilt control of the PS3
SIXAXIS
or Dual Shock 3 controller. It can be steered forward and to the sides, but not pulled backwards towards Cole.
Advantages
Restrictions
Trivia
Gallery
Sources