Mission gained:
First Glimpse
Location obtained:
Empire City
Attributed to:
Electrokinesis
Upgradeable:
Yes
Appears in:
InFamous, InFamous 2
Radar Pulse is one of Cole's basic powers in Infamous, Infamous 2, and Infamous: Festival of Blood.
inFamous
After the Empire City blast, Cole MacGrath's powers began to develop, one of the first he mastered was Radar Pulse. Radar Pulse's primary use lies in detecting energy sources, Blast Shards and Dead Drops, but can also be used to track nearby enemies who flash bright red when used. When Cole has used the Psychic Vision on a recently killed human corpse, it can also be used to detect the echo of the visions Cole has seen.
inFamous 2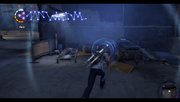 After Cole's battle with The Beast at the piers in Empire City Cole loses many of his powers, however he retains this one. He can no longer use it to track Dead Drops or Psychic Visions. He can upgrade the power for additional benefits.
Upgrades (InFamous 2)
First
Cole is able to sense the nearest Blast Shard, no matter how far away it is.
Second
Cole is able to sense the plague as well as potential Conduits.
Trivia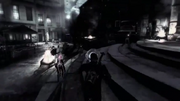 Gallery
Sources
Community content is available under
CC-BY-SA
unless otherwise noted.