"Stories Of The Past" is the 17th story mission in Infamous 2.
Nix: "Too bad, nice day for a skinny dip."
Cole: "Oooh. Go right ahead. I'm not stopping you."
―Cole meets Nix by the bayou.[1]
Cole receives a call from Nix who asks if he wants to "play a little show and tell." Meeting her on one of the piers, Cole watches her dangle her feet above the water before warning her of the dangers in the water. After joking about her skinny dipping, Cole asks Nix why she called him. Raising a finger and pointing towards the bayou, Nix says she grew up out there and explains the only people she knew were "thieves and crazies." When Cole asks what happened, Nix replies that she will show him, but first they need to acquire a boat.
Heading to the nearby mansion, the duo then fight through numerous Militia troops as they make there way to the pier and the boat moored there. Once aboard, Nix states that she'll drive and tells Cole to enjoy the view.
As they make their way towards their destination, Nix notices several Militia watchtowers, which she states are new. Telling her to take it slow, Cole questions what the Militia want as he destroys the towers. Jumping down to one of the bayou's islands, Cole clears out the Militia before returning to the boat.
The two then continue through the swamp and spot another Militia camp, but upon searching it, Cole finds that the Militia members have already been killed. After Cole returns to the boat, Nix states that she saw something moving on the far-shore. Racing across, Cole faces the Hive Lord responsible for killing the Militia troops.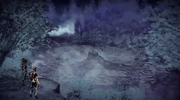 With the last of their opposition dealt with, Nix and Cole finally reach their destination. Leading him through the overgrowth, Nix shows Cole alittle slice of Empire City. Nix explains how Bertand had gathered a cache of outcasts (including Nix's family) and activated a Ray Sphere. Hidden in a bush at the edge of the clearing, Nix had watched as everyone she knew died as a result of the blast, leaving only Bertrand and herself alive. As the duo make their way back through the bayou, Cole ponders how powerful Bertrand could be, considering Nix is a force to be reckoned with.
This is the last comic book cutscene in which Cole wears his starting attire.
After the mission ends, Cole can follow Nix for a while until she manages to outrun him.

Also, Nix can be seen on a nearby rooftop, seemingly unconscious.

This is the second and last mission involving a Hive Lord.
The boat section in the mission is similar to the original Sly Cooper, as both protagonists have to knock enemies off the boat to prevent damage.
Community content is available under
CC-BY-SA
unless otherwise noted.