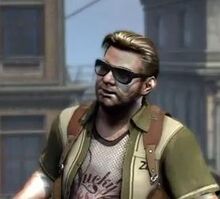 "I'm a gamer, nothing will ever change that"
— Myself.

Some of the things I do in my spare time include Gaming, Listening to music, Going on computers, Playing the piano

About Me
You wanna know about me? Well... Alright.
I currently live in England and have lived here all my life.
I have never traveled out of the UK. Holidays I go on are in Wales.
Favorite Instrument(s): Piano/Drums
Favorite Drink: Pepsi/Coca Cola
Favorite Colour: Red/Black
I hate flying insects and kill them if they are anywhere near me
I'm half Italian and have an Italian name aswell.
Gaming
Game Series I like / (Games I own out of the series):
• Grand Theft Auto Series (1,2,III,VC,SA,LCS,VCS,IV,TLAD,TBOGT,CW,V)
• Max Payne Series (3)
• Far Cry (2,3)
• Red Dead Redemption
• L.A. Noire
• Little Big Planet Series (1,2)
• The Sims (1,3)
• Gran Turismo Series (3,4,5)
• Saints Row Series (2 and The Third)
• Burnout Series (All)
• FEAR (1,2)
• Sleeping Dogs
(This is not a complete list of games I own)
My favourite gaming series of all time is Grand Theft Auto as I have played almost every game from that series and have enjoyed each one in one way or another. I like GTA III more than other GTA's and people always ask me why its not San Andreas or something. They fail to realise that GTA III was where the series started becoming successful! With that said, GTA V looks promising

inFAMOUS Wiki
I have not been here long but I am starting to like this place! I first ventured here in August 2011 looking for information about inFAMOUS and signed up to edit a few pages. I then left for no reason in particular. During my absence I started become more and more active on GTAForums (A site I signed up to in 2010) and since logged on to the forums almost every day and try to get involved with what I can. I came back here in May 2013 as I seem to have remembered about it. Zeke Dunbar is my favourite character in inFAMOUS and was the inspiration of my username